Los Angeles natives, basketball fans, and humans all over the world are devastated over the unfortunate and tragic death of Kobe Bryant and his lovely daughter Gianna Maria Onore.
4:56 PM PT — The Mayor of Costa Mesa, Katrina Foley, just confirmed the identity of one of the other victims in the helicopter crash … girls basketball coach Christina Mauser, who's married to Tijuana Dogs singer Matt Mauser. Matt also confirmed the news himself.
On Facebook, he wrote … "My kids and I are devastated. We lost our beautiful wife and mom today in a helicopter crash. Please respect our privacy. Thank you for all the well wishes they mean so much."
4:30 PM PT — L.A. weather was extremely foggy Sunday morning, and law enforcement sources tell us even LAPD air support was grounded because of it. Flight tracker data shows Kobe's chopper appeared to first encounter weather issues as it was above the L.A. Zoo. It circled that area at least 6 times at a very low altitude — around 875 feet — perhaps waiting for the fog to clear.
We know the pilot contacted the control tower at Burbank Airport around 9:30 AM PT, and the tower was aware the pilot had been circling for about 15 minutes. The pilot eventually headed north along the 118 freeway before turning to the west, and started following above the 101 freeway around Woodland Hills, CA. 
At around 9:40 AM they encounter more weather — as in seriously heavy fog — and the chopper turned south. This was critical, because they turned toward a mountainous area. The pilot suddenly and rapidly climbed from about 1200 feet up to 2000 feet.
However, moments later — around 9:45 AM — they flew into a mountain at 1700 feet. Flight tracker data shows they were flying at about 161 knots.
3:49 PM PT — Michael Jordan has spoken on Kobe's death, saying … "I am in shock over the tragic news of Kobe's and Gianna's passing. Words can't describe the pain I'm feeling. I loved Kobe — he was like a little brother to me. We used to talk often, and I will miss those conversations very much."
He adds, "He was a fierce competitor, one of the greats of the game and a creative force. Kobe was also an amazing dad who loved his family deeply — and took great pride in his daughter's love for the game of basketball. Yvette joins me in sending my deepest condolences to Vanessa, the Lakers organization and basketball fans around the world."
3:01 PM PT — The players, coaches and families at the Mamba Academy were obviously emotional when they heard the news about Kobe's death … but came together for a moment of silence and prayer.
Some of the Academy leaders addressed everyone at the facility — encouraging them to support each other, grieve together and honor Kobe by living good, quality lives.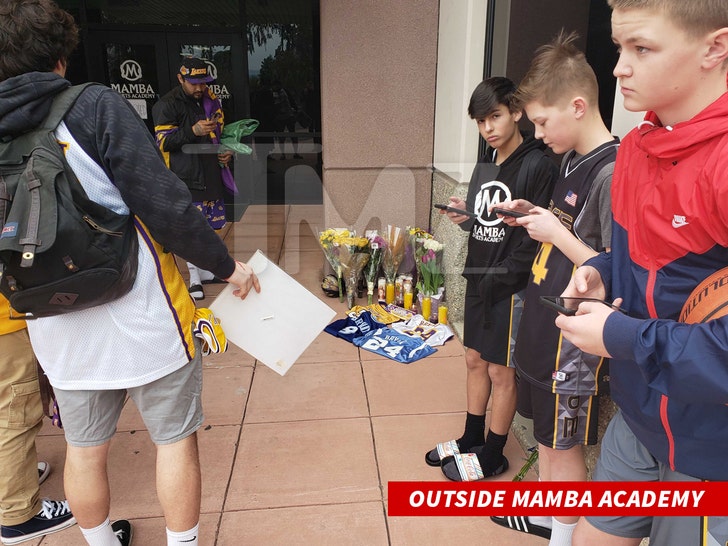 Kids, parents and fans left a shrine to Kobe outside the Academy's doors.
2:40 PM PT — Officials say they believe 9 people were on board — 1 pilot and 8 passengers — and there were no survivors. Still unclear why the chopper crashed but an investigation is under way.
2:42 PM PT — Authorities say responders had to hike to get to the crash scene. When they finally got to the incident site, it was clear no one survived.
2:08 PM PT — Barack Obama says, "Kobe was a legend on the court and just getting started in what would have been just as meaningful a second act."
"To lose Gianna is even more heartbreaking to us as parents. Michelle and I send love and prayers to Vanessa and the entire Bryant family on an unthinkable day."
1:48 PM PT — Authorities near the crash site are about to hold a news conference, detailing the fatal incident. We will be streaming the whole thing live. The start time has been pushed to 2:30 PM PT.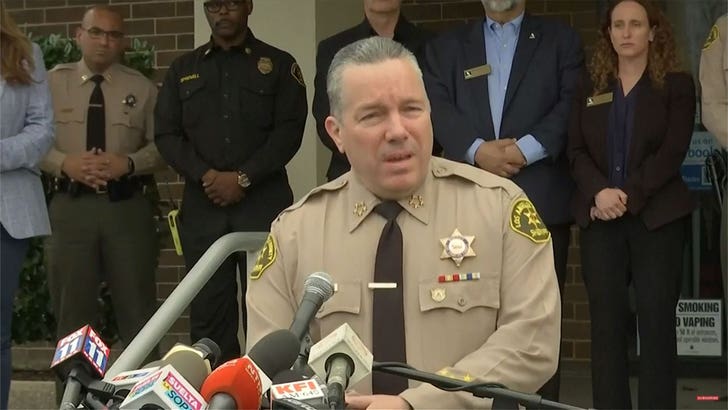 POST-INCIDENT UPDATE
Washington Post
1:46 PM PT — Shaquille O'Neal just posted a tribute to Kobe … saying, "There's no words to express the pain I'm going through now with this tragic and sad moment of loosing my friend, my brother, my partner in winning championships, my dude and my homie."
He continued, "I love you brother and you will be missed. My condolences goes out to the Bryant family and the families of the other passengers on board. IM SICK RIGHT NOW!"
1:19 PM PT — We've obtained the dispatch audio in which you can hear the operator directing emergency personnel to the crash scene.
1:12 PM PT — Rick Fox's attorney confirms the former Laker was NOT among those on board the helicopter, despite rumors that circulated suggesting he was. At least one of the other passengers HAS been confirmed, John Altobelli. He's a baseball coach at Orange Coast College.
12:49 PM PT — President Trump just tweeted about Kobe's death … saying, "Reports are that basketball great Kobe Bryant and three others have been killed in a helicopter crash in California. That is terrible news!"
12:35 PM PT — Kobe's daughter Gianna Maria Onore — aka GiGi — was also on board the helicopter and died in the crash … reps for Kobe tell TMZ Sports. She was 13.
We're told they were on their way to the Mamba Academy for a basketball practice when the crash occurred. The Academy is in nearby Thousand Oaks.
Kobe Bryant died in a helicopter crash in Calabasas Sunday morning … TMZ Sports has confirmed.
Kobe was traveling with at least 3 other people in his private helicopter when it went down. A fire broke out. Emergency personnel responded, but nobody on board survived. 5 people are confirmed dead. We're told Vanessa Bryant was not among those on board.
THE SCENE OF THE CRASH
RMG News
Eyewitnesses also tell us that they heard the helicopter's engine sputtering before it went down. As you can see, flames and smoke covered much of the scene from the wreck. The official cause of the crash is currently under investigation.
Kobe has famously used a helicopter to travel for years — dating back to when he played for the Lakers. He was known for commuting from Newport Beach, CA to the STAPLES Center in DTLA in his Sikorsky S-76 chopper.
KB is survived by his wife Vanessa. Together, they have four daughters — Gianna, Natalia and Bianca and their newborn Capri. Kobe and Vanessa got married in 2001 after meeting in 1999.
A memorial to Kobe has already sprung up outside of Staples Center, where Kobe played for years.
Kobe has recently been spotted out at NBA games with his daughter Gianna — a rising star basketball player herself. Their youngest daughter, Capri, was just born in June 2019.
Celebrities from all over the world and all parts of entertainment are paying tribute to Kobe on social media.
We miss you already Kobe ❤️❤️🙏🏼🙏🏼

— Tom Brady (@TomBrady) January 26, 2020
There's no words to express the pain Im going through with this tragedy of loosing my neice Gigi & my brother @kobebryant I love u and u will be missed. My condolences goes out to the Bryant family and the families of the other passengers on board. IM SICK RIGHT NOW pic.twitter.com/pigHywq3c1

— SHAQ (@SHAQ) January 26, 2020
Kobe Bryant, despite being one of the truly great basketball players of all time, was just getting started in life. He loved his family so much, and had such strong passion for the future. The loss of his beautiful daughter, Gianna, makes this moment even more devastating….

— Donald J. Trump (@realDonaldTrump) January 26, 2020
Man…this @kobebryant news has me ssiicck..

I've been a Kobe fan since day 1 and Stopped following basketball when he retired…

"The most important thing is to try and inspire people so that they can be great in whatever they want to do." – Kobe#RIPMamba #RIPKobe pic.twitter.com/DU3BnMSYxe

— Kevin Walker (@KevinLWalker) January 27, 2020
— NFL (@NFL) January 26, 2020
Most people will remember Kobe as the magnificent athlete who inspired a whole generation of basketball players. But I will always remember him as a man who was much more than an athlete. pic.twitter.com/9EZuwk8wrV

— Kareem Abdul-Jabbar (@kaj33) January 26, 2020